I'm more than a little frustrated by the ignoramuses online who claim that climate change isn't happening or is just Mother Nature taking her natural course. Either they scientifically illiterate or amoral sociopaths who don't care about the consequences of not dealing with greenhouse gas emissions.
NOAA recently graphed the Arctic sea ice extent over the last 1500 years, which clearly shows that the recent loss of Arctic sea ice is not part of some natural cycle: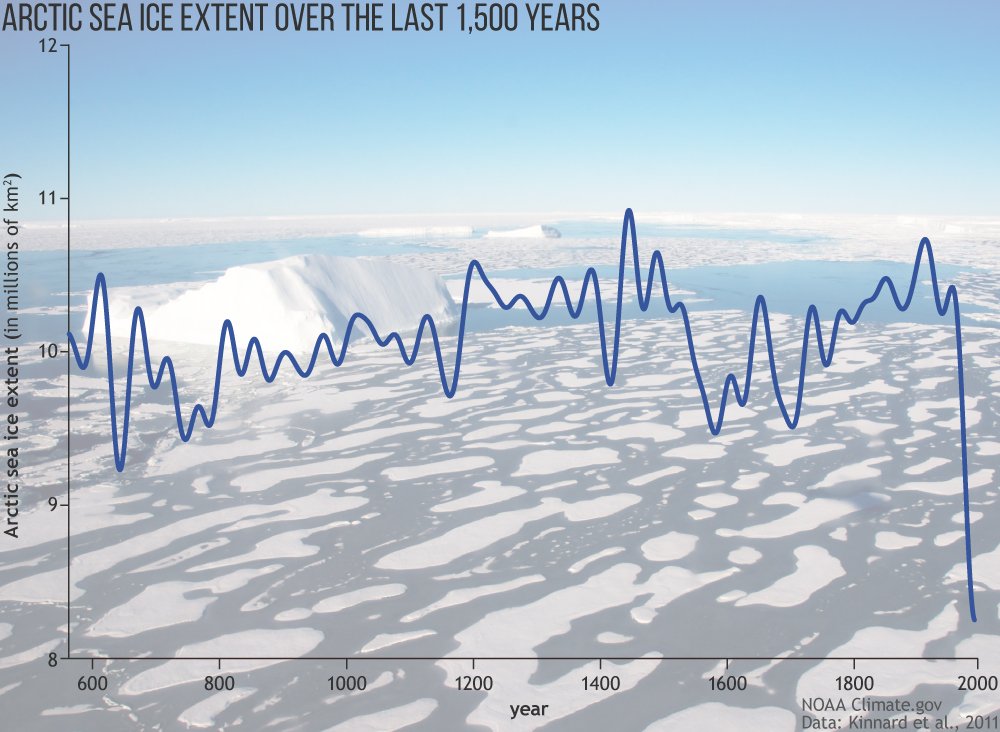 K. Pistone et al (2014) found that loosing 40% of the Arctic sea ice area between 1979 and 2011 decreased the planetary albedo (reflectivity) over the Arctic from 0.52 to 0.48 and that decrease in the amount of reflected light caused warming that was the equivalent of a quarter of all global CO2 emissions during that time period. We are now on route to losing all summer time sea ice at some point in the next decade or two. Some experts think it could happen as soon as 2020. This probably will double the warming measured by Pistone et al. due to the reduction in the albedo.
Loosing all the Arctic sea ice means a lot more than losing a few polar bears. According to Shakhova et al (2008), there are 1400 gigatonnes of carbon locked up as methane and methane hydrates under the Arctic submarine permafrost. If the Arctic starts melting that methane could escape and cause a dramatic burst in warming. There are indications that the methane is already starting to escape in increasing amounts. It is estimated that roughly 0.5 million tonnes of methane have traditionally been released every year by the Siberian Arctic. In 2006, that amount had increased to 3.8 million tonnes and it was 17 million tonnes in 2013. If this continues to increase at an exponential rate, then we can expect far more warming than is predicted by the IPCC's CMIP5 climate change models.
What will be the effect of melting the Arctic methane? Nobody is really sure. Currently humans emit roughly 10.9 gigatonnes of carbon per year. According to the CarbonBrief, the global climate budget for a 66% chance of keeping global temperature rise under 2 and 3 degrees C is 219 and 601 gigatonnes of carbon, respectively. Most experts don't think that all the Arctic methane will leak, but if a quarter of it leaks, then it will effectively double global warming. If all of it leaks, then it might be the end of the human race.